Business Builder Kit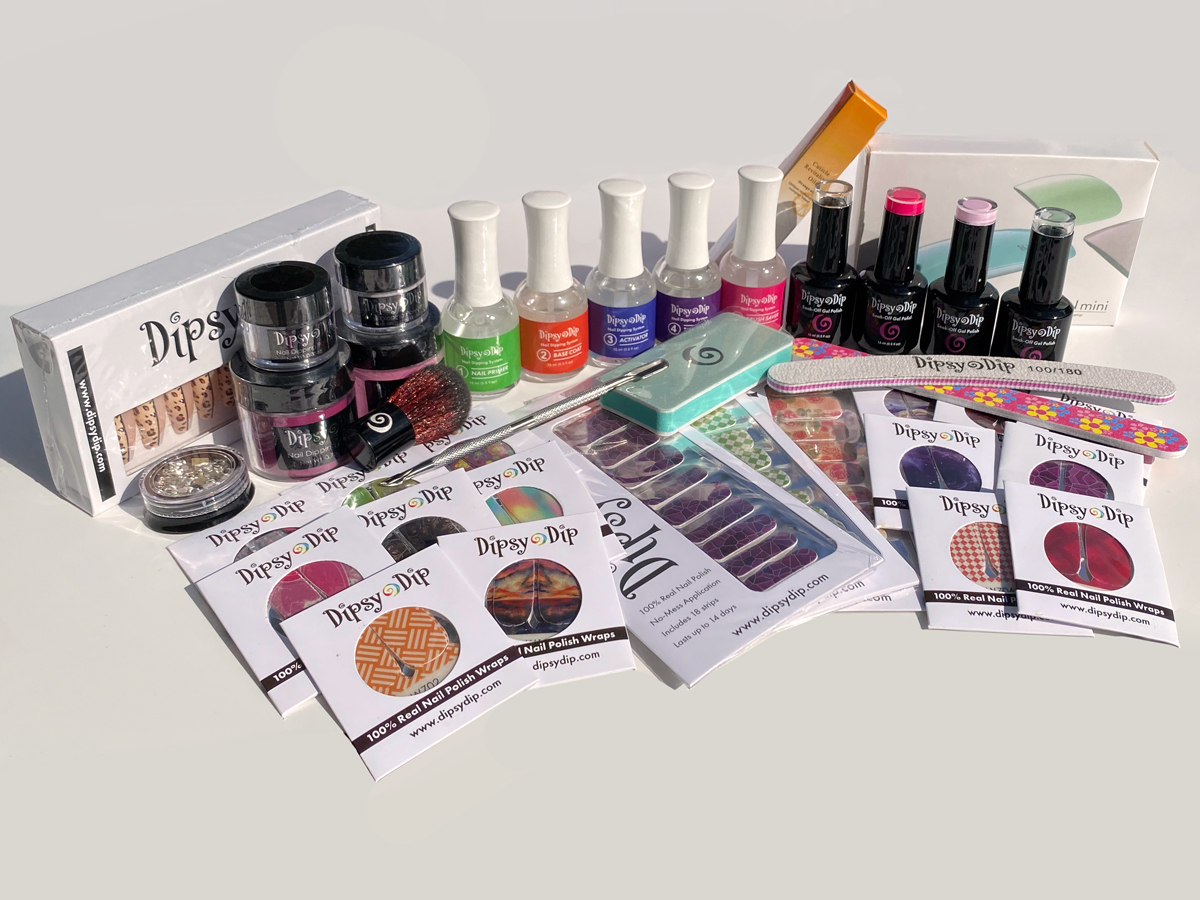 Get your Dipsy Dip business off the ground fast with our Business Builder Kit! Valued at over $275, this kit gives you immediate eligibility for our Core Compensation Plan, including our Double Dip Commission Bonus!
Our Business Builder Kit includes (2) 20 gram solid dipping powders of your choice and (2) 10 gram glitter dipping powders of your choice, along with our complete 5-Step Dipping Powder System, including Primer, Base Coat, Activator, Top Coat and Brush Saver. The kit also includes our complete gel polish system, including base coat, (2) gel polish colors of your choice, our No-Wipe Top Coat and a portable LED curing lamp. Get a feel for our other products with one Mani-In-A-Box Press-On Set, (3) 18-strip Real Nail Polish Wraps, (15) packaged 4-strip nail wrap samples and mystery nail bling. You'll also receive some of our favorite accessories including our Not Your Ordinary Nail Buffer, mini kabuki brush, cosmetics bag, large emery board, curved Dipsy Dip emery board, metal cuticle pusher, cuticle revitalizer pen, wood cuticle sticks, mini-emery boards and alcohol wipes. (Color options of included items may vary.)
The kit also includes 3 months of your personal website and URL, along with 250 personalized business cards. Included with the personalized website is access to our extended Back Office, which provides real-time, detailed sales, customer and downline information.
The Business Builder Kit also gives you immediate eligibility for our Core Compensation structure which gives you the ability to earn 25% commission on your personal sales and up to 10% more in Double Dip Commission Bonuses. You'll also earn commissions and bonuses on up to six generations of your downline!
Frequently Asked Questions
Check out our Frequently Asked Questions below. Click on a question to reveal the answer.
Expand All
What is the Dipsy Dip Core Compensation Plan?

Earn 25% on virtually every sale you make. (back office purchases and Distributor Kits are not eligible for commissions.) And then Double Dip to earn up to another 10% on your personal sales, based on your sales volume and team size.

Click here to view our Core Compensation Plan

Click here to view the Dipsy Dip Consultant Booklet.

Are there any sales quotas?

In order to keep your account active and earning commissions, you must have at least $150 of personal sales in the previous 3-month period or have purchased a personalized website and URL for the month. Accounts that have no sales for a six month period will be considered dormant, and may be permanently removed from our system.

See our Core Compensation Plan for sales volumes required to earn commissions on your downline's sales.

How much does the website cost, and what does the website include?

The monthly fee for your customized website is $10. That includes a personalized URL/subdomain (e.g. yourshopname.dipsydip.com) that you can promote via social media, business cards, parties, etc. Having a website will enable you to incorporate profile pictures and an introduction and bio where you can let customers know a little more about you.

The website fee also includes access to an extended back office, with in-depth, real-time reporting and details regarding sales, customers and your team. Our back office was developed with two goals in mind: 1.) Provide an intuitive way for you to track exactly where you are with sales and downline goals and 2.) Make it easy for you to build and foster relationships with your customers and with your team.

We will be launching more website and back office features, giving you even more power to market and brand yourself. Stay tuned for more details!

Is the website required?

No. The customized website is purely optional. If you do not have a website, users will need to search for you by name or by your shop ID. When they select you as their consultant, we will place a cookie on their device that will assign all purchases from that device to you until they select a different consultant, the cookie expires or they erase their cookies. Please note, the cookie only works on a single device, so they will have to search for you again if they change devices. With a personal website, users can still search for you, but if they know your personal URL, all they have to do is visit that URL, and their purchases will be assigned to you automatically.

Please note that website subscriptions are not refundable once billed. You must cancel prior to the billing date if you do not wish to be charged.

How and when are commissions paid?

Commissions and bonuses are paid the first week of the month after they are earned. Dipsy Dip partners with PayQuicker to pay commissions onto a Dipsy Dip branded debit card. Consultants will receive an invitation to sign up for a PayQuicker account on the first payday where they earn a commission.

Do I receive a discount on my personal purchases?

You won't receive an upfront discount, however you will earn your commission on all personal purchases made via your public shop. Think of it as a rebate, not a discount. (Please note that back office purchases are already discounted and not eligible for commissions.)

Pro Tip: You can create your own personal coupon codes up to the amount of your commission. So you could create a coupon code for your use only that effectively provides you with a real-time discount instead of a commission. Please note that the discounts from coupon codes you create come out of your commission!

Wait, did you say I can create my own coupon codes?

You caught that, did you? We think it's a pretty cool feature.

Perhaps you want to buy your mother-in-law's approval with a discount. Or maybe you want to incentivize a new customer to order. Or encourage an existing customer to purchase again. You can create single- or unlimited-use coupon codes up to the amount of your commission. Specify custom discount amounts, valid dates and usage restrictions. The only thing we ask is that you don't publish or promote coupon codes in public forums, instead use them in personal communications between you and your customers and friends.

Please note that the discounts from coupon codes you create come out of your commission!

Do all coupon codes reduce my commission?

No, not all of them. Coupon codes that you create reduce your commission by the full discount amount. Coupon codes that we create and promote to the public DO NOT reduce your commission. At times, we may offer special coupon codes that you can choose to use or not to use. Typically, we will share responsibility with you for the discounts on these special coupon codes. We will always make it clear on a special coupon code how much of the discount would come out of your commission. If in doubt, please don't hesitate to contact us with questions.

Tell me about the business cards

After you register, you will receive a coupon code for 250 single-sided business cards. Once you have the code, log in to your back office and go to Marketing -> Business Cards to access our Business Card Builder. Start by choosing a template for the front (please note that some templates incorporate your profile photo, so be sure to upload a profile photo first). After you select the front template, you'll be able to select a main color for the card. The preview will change based on the color you select. (Please note, color does not change on the front of some card designs, so you may not see the color you have selected until you view back templates.) Next, you will have the option to choose a template for the back of your business cards. Double-sided printing is not included in the free card offer, so you will have to pay $5 if you want to print on the back of your cards. Next, preview the final design (please note, this preview is an approximation only) and complete the order form, entering your one-time-use coupon code in the space provided. Cards are usually shipped separately, direct from the printer.

Are all sales commissionable?

No. Only sales made on the public shop (whether using your URL or if the customer has selected you as their consultant) are commissionable. back office sales (such as business cards, samples, etc) and Consultant Kits are not commissionable, however you may receive a Sponsor Bonus when someone signs up under you, depending on the consultant kit they purchase. The Sponsor Bonus for this kit is $10.00.

How long will it take for my Consultant Account to be approved and active?

Your Consultant Account will be conditionally approved immediately upon receipt of payment, providing you with immediate access to your back office, website, etc. However we reserve the right to review all applications within 3-5 business days after registration before permanently approving your account. In the unlikely event a consultant registration is not approved, we will issue a full refund for the Consultant Kit and/or Sign-Up Fee.

I live outside the United States. Can I sell (or buy) Dipsy Dip products?

Unfortunately, no. At this time, we are only able to accept consultants who reside in the United States. Similarly, we are unable to ship outside the United States at this time.